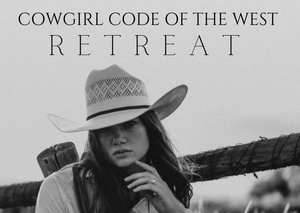 Cowgirl Code of the West Retreat
---
Ready to start your New Year off right? Join us January 26-29 at Coleman Ranch in Molalla, Oregon. 
Leave feeling inspired, have a clearer vision for what it is you want to accomplish, content create with our photographer on site, form relationships with other women in the western industry, while chatting all things marketing, branding & so much more.
Listen to top-notch guest speakers and western lifestyle influencers. Learn from women who have transformed the western industry through business & creativity. Go home with an abundance of creative content so you can get implementing right away.
No matter your industry, from Real Estate Agents to Boutique Owners, to Interior Designers, you will leave feeling refreshed and inspired and ready to breathe new life into your business!
---
Sorry, there are no products in this collection.