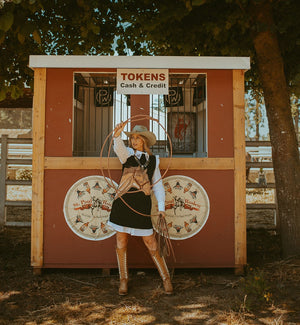 El Caballo Sweater Dress
---
The Exclusive El Caballo Sweater Dress in two colors to choose from!
Only available at Blush Out West, debuting tonight, Tuesday, August 15th at 6:00 pm mtn. 
Get the illusion of two pieces, but the ease of wearing one!
The "shirt dress" and sweater are sewn together into one piece. 
It's all in the details of the El Caballo
The fancy western stitched collar is sewn closed with a pearl button.
The long sleeves end in a row of 4 pearl buttons.
The peek a boo hem is 100% white oxford cotton and mimics a shirt dress peeking out of the sweater. 
Don't forget the darling ruffle detail at the shoulders.
The shirt dress is slightly longer in the back.
Let's talk about the horse! The outer sweater piece displaying the horse head with a flowy mane is a stretchy sweater fabric made from 53% rayon, 32% poly and 15% nylon.
The sweater has side slits at each bottom hem revealing more of the "white shirt dress" underneath. 
The cream dress has light brown western stitching at the collar and the black dress has darker brown stitching. 
The only question now is....What Color Do You Want????
---
Sorry, there are no products in this collection.