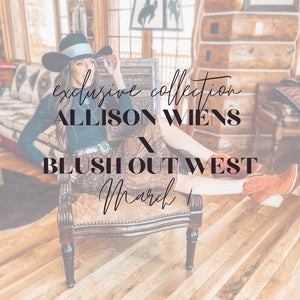 The Allison Wiens Collection
---
This is Western Fashion Influencer Allison Wiens' very own collection within the Blush Out West Shop. On our last buying trip to L.A. we were sending Allison pictures of items and she would say yes or no. It was so fun to have a third buyer "along with us" as she chose each piece we're bringing here to you tonight!
She has styled and photographed this whole collection and we are so excited to partner up with her on this. Be sure to follow her @Allison.Wiens on IG for more of her style tips, insight into her daily ranch life, her healthy living tips as a mom and her viral Reels with hubby Trav. We just love her!  
---
Sorry, there are no products in this collection.